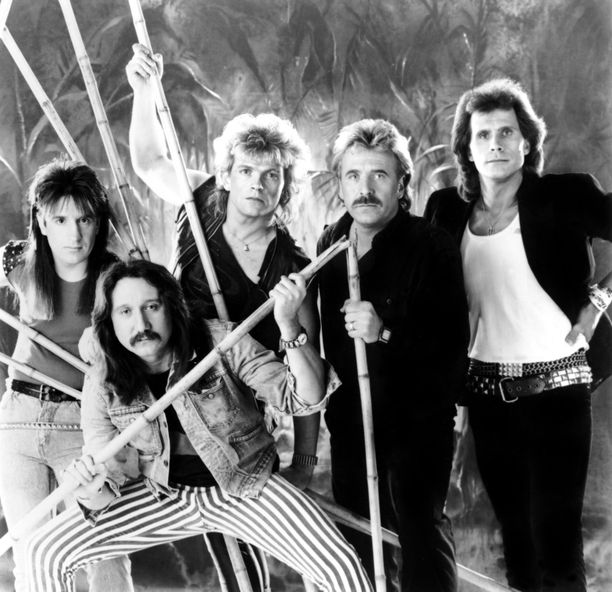 Equator was released in the spring of 1985 on Portrait [CBS], from Uriah Heep; it would be the third and final album to feature the keyboards of John Sinclair, the first to include the return of Trevor Bolder on bass [RIP]. and the distinctive vocals of Peter Goalby. The latter frontman had come from Trapeze, another band where he was working as a replacement singer/guitarist, with huge shoes to fill. Equator's release was less well received than the band's previous 2, and over time it's become the album of choice for Heep fans to dump on as the band's worst [or close to]. I can't argue that Equator was one of the band's best [tho someone else might], but it certainly has some fine moments and excellent songs, that, under different circumstances might've been more appreciated than some think.
First, and very important is that unlike it's 2 predecessors – producer Ashley Howe was not involved with this album; Howe played a major part in the band's new '80s sound previously, and influenced the band to to record a number of outside tracks on the previous 2 albums. Second – Equator featured no outside penned tracks; it was all band written material – something that Heep hadn't done since Conquest [1980] or again until Different World [1991]. For me, where some outside tracks seemed to help Abominog, it is the outside tracks on Head First that let the album down.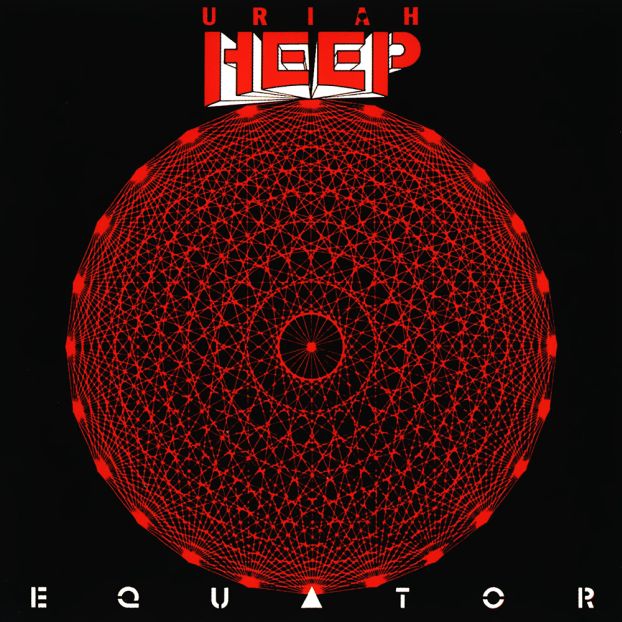 But let's start from the beginning – the album cover. It's OK, not one of my favorite Heep covers, I like the band logo, but not keen on the big red ball. It was done by Bill Smith, who's done hundreds of cover designs, notably The Who, Genesis, The Jam, The Cure, and Marillion.
As I said previously, Ashley Howe who helped to re-establish the band with Abominog, was out, and CBS brought in Tony Platt to produce. Platt had an amazing list of credits by that time, as one who's mixed albums, engineered, and produced – AC/DC, Billy Squier, Iron Maiden, Gary Moore, Mott The Hoople, Foreigner…. I have to wonder if CBS didn't bring him for his work with Mutt Lange on such huge albums by Foreigner and AC/DC!? Regardless, the new Heep was going for a more busy techno '80s sound, sorta in that realm of Def Leppard – post Pyromania thing [and sorry, but I think Leppard after the 3rd album was total shite!]. But really, aside from a few questionable cuts, I think Equator had some good stuff on it; it was far from the classic early '70s Heep, but good for the time in the mid '80s when every band – be they metal or prog – trying something different for radio or video play, and making use of new technology of the day.
(3) Uriah Heep – Rockarama – YouTube
"Rockarama" was the first single [and album opener], it's a punchy party pop-rocker aimed at the MTV audience of the time [a few songs seem to follow this MTV-party theme]. Probably one of the band's most despised tracks by die-hards, but really, it's not that bad as single on it's own, though it's a bit cluttered, and what is a 'rockarama' [?]; I thought it was a made up word by Heep, but Nope – there was another band [Highway Chile] who also had a song [and album] called "Rockarama", out in '85! I have warmed to it a bit over the years; though it is among the 3 questionables on this album . Another dodgy one being side 2 opener "Party Time" – musically not so bad, but the title and chorus kill it for me, and the over the top gang vocals, uhgg; the 3rd one being "Skool's Burnin'", and again it's not so much the tune, it's the lyrics & chorus, and the excess backing vocals. But beyond those 3 tracks, it's not all too bad here. Tracks like "Angel" and "Holding On" are not bad pop-rockers, tho' a bit generic lyrically, and and not overly memorable for it. "Heartache City" and "Night of The Wolf" are both LP side closers, and both are solid late night driving tunes. The former could use less of the chorus repeats, but the latter has some great organ, a great vibe, cool spooky rocker. "Night of The Wolf", along with "Bad Blood" [a kick-ass heavy rocker here] sit not too far from the likes of "Too Scared To Run" – as favorite rockers from the Goalby era, for me, The album has 2 ballads, "Lost One Love", another good song, that might've made for a nice single in the '80s. The album's finest track tho' has to be "Poor Little Rich Girl", which starts out on acoustic and builds up to the chorus, and features a heavy symphonic break, with a big solo from Mick Box.
(3) Uriah Heep – Bad Blood Live 1985 – YouTube
The band would tour this album for a long time. There was complaints at the time about CBS' lack of effort in getting it in to shops, as the band would turn up in places where the album couldn't be found in local shops. It would chart low in the UK, [only], and despite a video for "Rockarama" , neither single would chart. Goalby left at the end of the tour, and the band carried on in late summer of '86 with American singer Steff Fontaine, still playing Equator songs [which they would until a new studio album was recorded in '89]. Fontaine would cite the '80s era of Heep, [in particular Equator] as his favorite material from the band. He would later turn up in a band called 'Heartache City'. Sadly, Goalby would not stick around the music business too much longer, but he would write a few songs for others, notably "Blood Red Roses" for Heep's Raging Silence album! A damn shame because the guy had a great voice, and whether you liked the more commercial '80s version of Heep or not – Goalby played a huge role is resurrecting the band, and bringing in material to give the band new life.
(3) Uriah Heep – Night of the Wolf – YouTube
Equator may not be on many old Heep fans 'top 10' list, but it is not their worst IMO, and one that deserves another listen. There's some forgotten gems on there, and if you are ok with the '80s production, this album is pretty good. Get the 25th anniversary CD version [on Lemon Recordings], as it includes extended liner notes, and more so – bonus tracks of the single edits for "Rockarama" and "Poor Little Rich Girl", a live version of "Gypsy", and the excellent B-side [non LP] "BackStage Girl".
KJJ, 11/'20