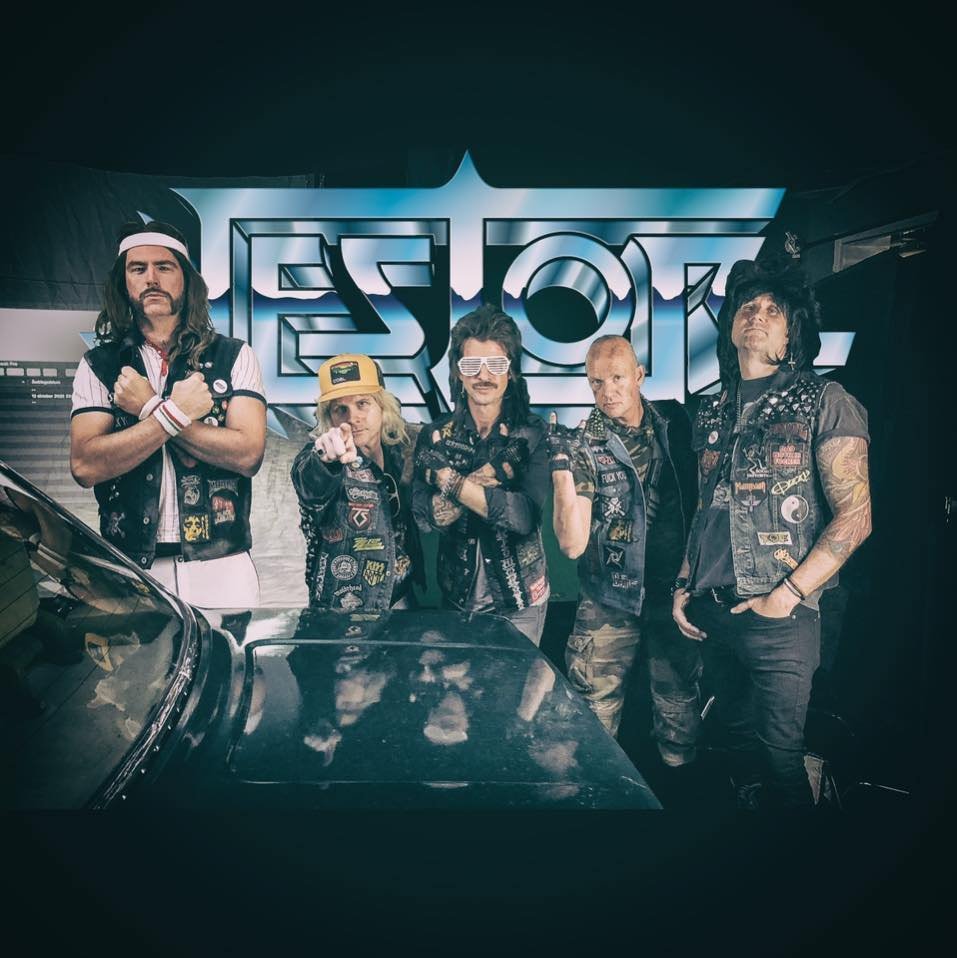 Nestor is a new [old] band from Sweden, who's 3 videos from their debut album have amassed over a million views. Well….actually, they are old band, but have returned decades later with their first album. The band music is a return to the '80s in sound and image, and their album (see my review elsewhere on this site) is full of great '80s hard-rock. If you were a fan of aor/HR in the '80s and Kids In A Ghost Town had come out in the mid '80s – you'd likely already own it! Here is an interview with Tobias Gustavsson of the band detailing their return in 2021, and their exciting debut album. *Check out the links below.
Can you give me a bit of background on the band — you guys existed briefly and released a few singles!? What do you recall of those songs, and why/when did the band split back then?
Yeah, Nestor was founded back in 1989, we all grew up in a small town together in Sweden, found each other through music and started playing together. We released a couple of EPs up til '95. The first EP was all over the place genre wise. We mixed all kinds of influences, everything from U2 to Europe for example, but it's hard to hear because it really sounds like crap. The second EP was a bit more unified, with influences like Queensrüche and Dream Theater, I'll have a listen to that second EP from time to time and I'm quite proud of it still. We never really split up; we just went on a looong pause… haha!
Is there a bit more you guys can mention about your past in music, be it recordings you've been a part of (as musicians or producers)? Tobias, can you mention a bit about your success as a producer [assuming this is your site – http://www.25media.net/tobiasgustavsson/ ?]
Yep, that's me. All of us kind of worked with music in one way or another, played in different constellations and bands, but I (Tobias) went on to become a songwriter and producer and had a couple of projects, among them a duo called Itchycoo, and later a band called Straight Frank (that our guitar player Jonny was a part of too). I also wrote for other artists and made some pretty successful songs here and there through the years. I've kept on working with music in some form or another through all the years.
Sweden (as well as Norway) has a lot of great musicians & bands in the hard-rock, AOR, metal genre. Why do you think that is? And any favorite (or recommended) artists or albums from your country?
That's a tricky question, right off the bat I think that the long winter has an impact when it comes to great musicians and bands (there is nothing else to do other than being in band or in a sports team). Also, success breeds more success probably, so thanks to ABBA and Roxette and all the other greats the tradition sort of goes on and inspires new Swedes to succeed maybe.
Some favorite bands from Sweden right now – Niki and the Dove (80's pop with contemporary influences) and Ludwig Hart (sound like a mix of Tom Petty and Springsteen with a touch of Aha which is a great band as well by the way). Another band in our own genre worth mentioning are H.E.A.T that we're joining in February on their Scandinavian tour! That's gonna be fun!
It was the time during the pandemic that brought you guys back to record a full album, correct? Or was it merely one song that led to another and so on?
I would love to say that we had this master plan from the start, but the truth is a bit of both – one song led to the other and then the vision became clear; "to make the album now that we didn't have the skills or possibility to make back in '89."
What did you do to get in that head space of writing so many great 80s type rock songs during the making of this album — did you guys go back and listen to a lot of stuff from that era?
Yes, we did, we listened to a lot of music from that era but also read magazines and watched a lot of movies etc to get the vibe to get back to that feeling from that time in our lives.
The videos have been well planned, very detailed, and humorous. What sort of inspired those type of clips, seeing as MTV went out decades ago, and not many bands put in such effort these days?
The inspiration was plain and simple 80s metal videos – they always had a story back then. Personally, I always liked the fact that music is entertainment and that kind of got lost somewhere in the mid 90s. We have a saying in Nestor that our mission is "to protect the legacy and re-invent the iconography of rock".
Can you touch briefly on some of the songs, as far as musical or lyrical inspirations? On The Run, Perfect 10, Firesign, Kids In A Ghost Town…. etc. Are many of the songs written from personal experience?
All of them are personal, the songs are about being a kid with big ambitions in a small town! The song Perfect 10 is a description of my boy room mixed with my first real crush, Johanna. "Darryl Hannah wouldn't stand a chance – next to her she's just a cheap romance" hahaha!
Can you tell me a bit about the song "Tomorrow", and how you ended up getting Samantha Fox to guest on it?
When I wrote the song, I immediately felt that it was written as a duet. Thinking about the perfect duet partners (once again, going through the posters on my wall back in '87) Sam popped up and I can't think of any other singer/artist that sets the tone of the 80s and represents that era better than her.
I contacted her management and asked if she would be interested in participating on the song. She heard the song and loved it, and the rest is history in the making! We also got her to appear in the music video which turned out really great.
Will there be any more video singles from the album? Any you'd like to do?
We'd like to make videos for all the songs on the album but unfortunately, they aren't cheap… Hopefully there will be more. Stay tuned!
You also co-wrote a number of songs with Andreas Carlsson, who has had credits on some pretty big albums. How did you guys wind up working with him, and what did he contribute to? [songs]
I knew Andreas from before as we've worked on some projects together. We wrote the lyrics together for Perfect 10 (Eyes like Demi Moore) and These Days. Andreas wrote the lyrics to Stone Cold Eyes on his own.
Can you guys (each) give me a few lists (5-10) of favorite albums and bands from the '80s or that you grew up with (the 70s??)
Tobias: Kiss – Animalize, Asylum, Crazy Nights / Van Halen – 5150 / Europe – Out of This World, Prisoners in Paradise/ Bon Jovi – New Jersey / Queensrÿche – Operation: Mindcrime / Giant – Last of The Runaways / Twisted Sister – Stay Hungry / Bryan Adams – Waking Up the Neighbours / Def Leppard – Hysteria / Motley Crüe – Theatre of Pain
Martin: Helloween – Keeper of The Seven Keys Part 1 / Giant – Last of The Runaways / Kiss – Crazy Nights / Magnum – On A Storyteller's Night / Queensrÿche – Operation: Mindcrime
Marcus: Queensryche – Operation: Mindcrime / Kings X – Out of The Silent Planet / Toto – IV / Judas Priest – Defenders of The Faith / Accept – Metal Heart
Mattias: Rush – All The World's A Stage / Queensryche – Operation: Mindcrime / Deep Purple – Machine Head / U2 – War / Van Halen – Van Halen
Jonny: Judas Priest – Screaming For Vengeance / Gary Moore – Wild Frontier / Ozzy Osbourne – The Ultimate Sin / Kiss – Animalize / Yngwie Malmsteen – Odyssey
Links:
https://shop.merchants.se/nestor/
https://www.ginza.se/…/kids-in-a-ghost-town-2021/43275/
https://www.youtube.com/channel/UCFx-v5LuHA1WU560IdbmBYw
https://www.facebook.com/nestortheband/
https://www.rocknytt.net/intervjuer/117667-nestor-tobias-gustavsson-om-att-vaxa-upp-i-en-smastad-med-superstora-ambitioner-och-inte-take-no-for-an-answer?fbclid=IwAR12692NFAyKoDSlLRai7I_kZg0nZ4HU7mV0KkRAEFku26REEV49B5LGuuQ
https://madonna-infinity.net/forums/topic/30335-new-samantha-fox-featured-on-the-band-nestor-new-single-tomorrow/
KJ, 10/'21